Violin Maker, Expert & Restorer
Hans Weisshaar, violin maker and restorer, emigrated to the United States in 1937 after studying at the famous German State School for Violin Making in Mittenwald and working in Switzerland, Holland, and Germany. He became an American citizen and during those early years, worked for William Lewis and Son in Chicago, then for Emil Hermann in New York. In Hermann's well-known shop, Weisshaar worked alongside the maker who would become the most influential violin restorer of the 20th century, Simone F. Sacconi.
In New York, Weisshaar met the violin virtuoso Nathan Milstein, who urged him to go west to Los Angeles, where there had been a dire need for a professional violin maker and restorer.  In 1947, Weisshaar moved to Los Angeles, established the first world-class violin making and restoration workshop in the western United States, and rapidly built a clientele of world-class musicians.
With his reputation for high standards, Weisshaar's firm on Sunset Boulevard in Hollywood became the destination of an ever-expanding constellation of luminaries, including Pablo Casals, Mischa Elman, Zino Francescatti, Jack Benny, Jascha Heifetz, Yehudi Menuhin, Michael Rabin, Isaac Stern, Heinryk Szeryng, and Joseph Szigeti, Laurence Lesser, Roman Totenberg, and Alice and Eleonore Schoenfeld.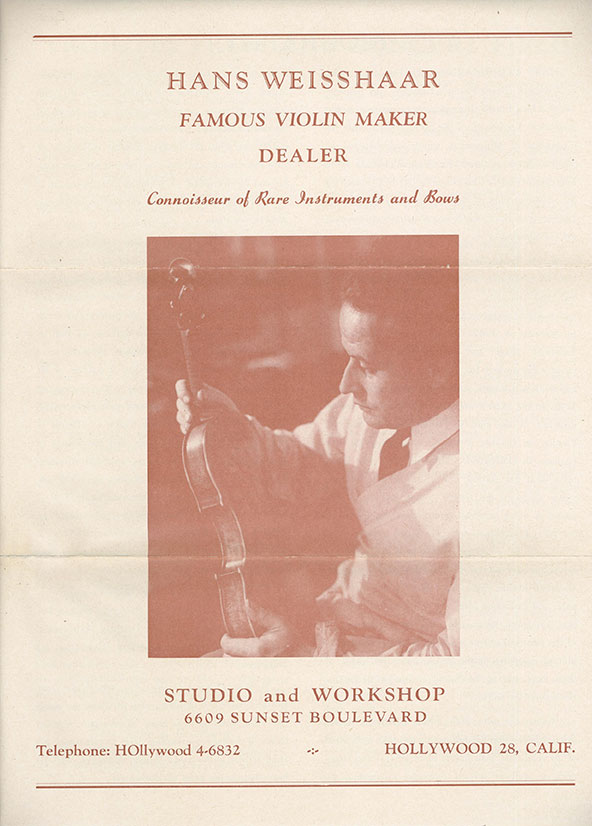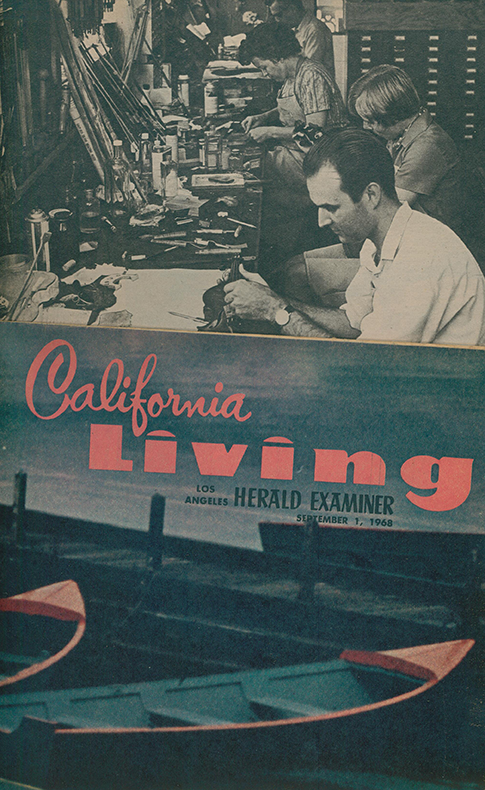 Hans Weisshaar on Larchmont
In 1961, Weisshaar moved the company to Larchmont Boulevard in the Larchmont Village neighborhood of Los Angeles.  There he maintained one of the largest professional violin and bow making restoration workshops in the United States.  Because of his growing clientele on the West Coast, he also opened a workshop in San Francisco and maintained it for several years.
Mr. Weisshaar made history with his unprecedented restorations of the "The Red Diamond" violin, and "The Bass of Spain" cello, both made by Antonius Stradivari.  In his atelier, he became a mentor to scores of young violin and bow makers and restorers from around the world, who went on to establish their own highly-regarded workshops. 
A driving force in the violin trade, Weisshaar was a co-founder of the American Federation of Violin and Bow Makers, established in 1980.  The Manual for Violin Restoration, co-authored by Hans Weisshaar and Margaret Shipman, was a milestone for the company and the violin making trade. Mr. Weisshaar lived to see its publication in 1988 and enjoyed its many accolades. Upon his death in 1991, Ms. Shipman took over the firm.
The The Manual for Violin Restoration can be found in every reputable violin workshop around the globe.
Hans Weisshaar on Huntington
Georg Eittinger, master violin maker and restorer, was drawn to Hans Weisshaar by the Weisshaar restoration book and in 1991, spent two years as a journeyman in the Weisshaar workshop on Larchmont Boulevard. In 2004, he returned to Los Angeles and acquired the company. He brought to the firm his own reputation as a master restorer in Europe and England. In 2005, with his colleague and master violin maker Steffen Werth, he opened a branch of Hans Weisshaar in Berlin.
Eittinger, after nearly two decades, developed the business, organized exhibitions for fine instruments and bows, and worked with both customers who have come to the shop for decades and with a new generation of fine musicians and collectors, including Alice Schoenfeld, Lynn Harrell, Emanuel Borok, Ron Leonard, Richard Naill, Walter Verdehr, Kathleen Winkler, Robert Lipsett, Anne Akiko-Meyers, Martin Chalifour, Nathan Cole, Fung Ho, Simone Porter, Blake Pouliot, Aubrey Oliverson, and Elizabeth Pitcairn.  Hans Weisshaar has held notable sale exhibitions of fine instruments and bows and has exhibited at Mondo Musica in Cremona, Los Angeles, and New York.
Throughout the following years, Eittinger has trained and mentored dozens of violin makers from around the world in restoration techniques, in both the Los Angeles workshop and in Weisshaar Restoration Courses in Mittenwald and Cremona.
In 2016, Eittinger opened a branch of the company on Huntington Drive in the historic Los Angeles city of San Marino, home to the Huntington Library, Museum, and Botanical Gardens.  Since 2018, the San Marino location has been the sole location of Hans Weisshaar in the Los Angeles area.